Balancing the Gender Gap in Tech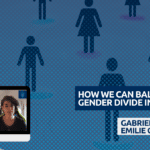 Transcript:
Gabi: And I mean, you mentioned earlier what attracted you to technology, Emilie. As females ourselves, what do you think we could do to attract more women from a younger age to want to take that step into a technological career?
Emilie: I was thinking about that because I have a niece and she's young, and I really told my sister to try to get her very early to see if she has an interest in technology or anything like little robots, whatever it is, to not be like, 'No no, just play with this doll.' or 'This is too complicated.' or, you know, like as you grow up, you'll hear things, like 'Oh, women, are not as good in math.' and other wrong things like that. And, um, and so the role in this case of her mother, my sister, would be to really counter all of that and show her that all the science part, basically she can do it. And maybe, as a child, she can have like little, you know, those sort of little robots I've seen that you can actually have stuff for really small kids.
Gabi: Yeah.
Emilie: About coding. And that would be, that'll be great for when you're very young and when you're a bit older and you're in uni and all that the tough thing is sort of gatekeeping. So it's hard. And depending on the field you're into, it's a bit tough, like if you go into engineering or something.
Gabi: Yeah.
Emilie: And there are so few women. I studied management, actually, in my bachelor's, and it was pretty even. But I could see like in psychology it was really a lot more females and in things like finances, it was mostly guys there.
Gabi: Yeah.
Emilie: So it's there that the change has to be made, first and foremost, you need to encourage other women to go into those bachelors and things like that.
Gabi: Yeah.
Emilie: Which is a bit tricky,
Gabi: Yeah we're not expecting us to have all the answers.
Emilie: It's about what you've done before. So they have this image of themselves like, oh, this is actually a good job, I can do it. And it's interesting and I don't have to be in some job where I'm like, caring for others and blah, blah, blah.
Gabi: Yeah. So I think a lot of it, from what you've said, is like a stigma then that what you're seeing of that job and that profession is if it's mainly male-based, perhaps that would influence younger women to feel like, 'Oh, maybe that's not exactly the career, where there's a lot of females and it wouldn't be the best environment for me.' So maybe the publicity of how we perceive it and where we're seeing these females. I know for sure now, more than 10 years ago, there's a lot more female CTOs and even outside of tech, just women in positions of power. But they don't get highlighted as much as perhaps the men do. They're certainly not as well known in terms of the household name. So I think that the media definitely has a lot to answer for there in terms of our perception of these women in power and where they are. But you've got some great ideas there and certainly introducing the younger generation to technology a lot earlier. I know in the UK there's an incentive with Raspberry Pi, which is like a small coding-based activity that they give to children in primary school now. So from like five and six that they're playing with, like these Raspberry Pi, it's trying to get them into computers. But there's still a lot of work to be done for sure. I just like hearing people's ideas on how we can that how we can combat this and try and get a bit more equality between the genders across all companies. But it's certainly a hot topic at the minute.