Building a Personal Brand in Tech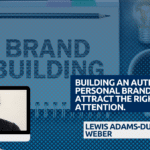 Building a strong personal brand requires dedication to creating original content on a regular basis. Right?
Wrong!
'You can build a brand and a sense of who you are in terms of the comments you put out there and the questions you ask of other people. It doesn't have to be original posts.'
These wise words are from Data Thought Leader and GM of Experimentation and Data at Yelp, Eric Weber.
If you're looking to build your personal brand, then you NEED to check out this video.
It's the first in the series from Eric, so stay tuned for more….
Transcription:
Lewis: So, thanks to anyone that has tuned in. This is, essentially, a series of webinars and podcasts. I'm going to be running with a bunch of different thought leaders from the data space. Right now, amongst the pandemic and possibly one of the worst financial crises that we've seen in the history of the world, what I'm trying to do is connect with different people to try and prepare them when they're not so well prepared essentially for their next moves in their career. The next team member they're going to bring on board. So, to do that, I'm going to be connecting with people like Eric Weber. I'm trying to understand some of the decisions that he's made during his career and why. I'm no Lex Fridman, so I won't be diving deep into the technical. But I do have a wealth of knowledge from the HR and talent acquisition space and I host a podcast focusing on AI and emerging tech. I hosted several datacentric meet-ups across the US but most importantly, I've spent several years building relationships with people in the space and Eric Weber is going to be my first live broadcast guest. Now, if you don't know Eric Weber, firstly, are you really a data scientist? He's one of the most active people that I've seen on LinkedIn. I'm always sharing his knowledge and insights into the space. So if you are familiar with him, you'll know the kind of content that he creates. And I'll be bringing similar people on this live as well. And really just sharing information, now, for free. Eric Weber is now one of the data science leaders at Yelp. He has over 50,000 followers on LinkedIn, which I guess probably makes you an influencer, now, Eric, right?
Eric: I'm never sure how to interpret that word, I'll be like, hmmm, should I be uncomfortable? I think I prefer; conversation starter. I think that's a better word. You get the privilege of having a reach that allows you to start conversations. Maybe I'll put it that way, because every time I see an influencer list, I kind of, still cringe a little bit. I being, like, not adapting to the times yet, but I'll hold out as long as possible.
Lewis: OK. We can rebrand it as a 'conversation starter.' But, either way, in the coming weeks, We'll be doing our best to discuss different topics within the data space, that we believe are either not getting enough exposure or perhaps are areas that we think people have the least amount of understanding and knowledge in, but still so important when either making career moves or even hiring decisions. So welcome to the show, Eric Maybe you can introduce yourself.
Eric: That sounds awesome. Well, first of all, thanks for inviting me on. Being the first one is both an honor and also, you know, a little bit of a guinea pig. So we'll figure out, like the ins and outs of doing LinkedIn Live. But I'm happy to be here to just have a discussion. I'm not here to, like, sell a certain viewpoint or anything like that. It's really trying to think about the issues that people in the data space are facing. And part of that is looking at things from an individual contributor perspective, but also have had the chance to sit on the other side of the table, as a hiring manager, as a leader. It's really important to understand what it means to get started in the space and to make career moves from both sides of the table. And Lewis is going to be really helpful in that regard, because thinking about any move, thinking about any transition or start almost invariably is going to require working in-depth with HR, with recruiting, with talent, whatever the department is called, in a different organization, one who tends to make the magic work behind the scenes. So looking forward to getting to chat.