Gaining Global Leadership Experience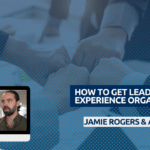 Wanting to move to a leadership role?
The Catch 22: if you haven't got the experience how do you get it?
Jamie Rogers and Alfie Walters discuss that by being proactive and assuming authority to some degree, you're more likely to be given more responsibilities.
Watch the video to find out more!
Transcription:
Jamie Rogers
So my piece of advice is for senior-level technology people who have been kind of senior and maybe an unofficial tech lead or something for a long time. And they're thinking, right now is the time where I need to progress into a team manager or a head of or a CTO. How do I go from this senior developer job title to the next step, team leader or whatever It might be? The best way to go from senior to or individual contributor roles to a leadership role is to do it organically.
If you're an individual contributor and you're applying for a leadership role, but you've got no leadership experience, other people apply for the same job as you with leadership experience, will get that job.
Yeah, that's going to happen. So if you haven't got the experience, how do you get it? It's like a Catch 22.
Alfie Walters
I think that's The biggest question candidates will ask.
James Rogers
I think the best way to get it is to just acquire it. Like, acting as if to some degree, act as if you're a leader in your contributor role.
And that means contributing very broadly to the project and the people that you work with. So assume authority to some degree. You can't just go elbow in amongst your boss's job. But if you proactively contribute to big architectural design decisions. And if you proactively, go and coach and mentor people.
If you proactively, bring your ideas into the project. If you learn new technology and introduce that, you're adding broader value, you'll naturally acquire more responsibilities. So then you make this step from individual contributor to some form of unofficial leader. And then even without the job title, you might be given a small team of people to guide a mentor. So now you're kind of like a team leader and then organically, you progress into an official team leader.
So then you make that organic change within one company. So you must work for a business that can give you more responsibilities if you assume it.