Growing A Startup – Learning From Your Mistakes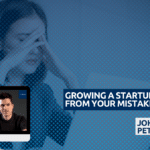 In this video Petter address the challenges he faced leaving his job to start his own business in the tech industry. It's never as easy as you expect it to be! And no business or career progression decision is without risks.
But hard work reaps rewards! Watch this clip to see how the learning curve from mistakes can merge into a pathway to success.
Transcription:
Johnnie: Let's go back to September 2017, when you've just you've just decided to take the leap to becoming a business owner, what challenges did you face? What advice would you give to anyone who is thinking about leaving their current job to go and start their own business in the tech industry?
Petter: It's a lot more difficult than you think it would be, because you're having the final word and what you're saying will directly impact your company. People are always talking about founding a company or starting a startup, and how it is so much work. And yes, it is, from time to time. You work crazy hours, especially the tech guys. But, at the same time, I would say it's it's challenging intellectually aswell because it's difficult. There's a lot of rules and regulations that you need to understand and a responsibility that you don't really think about when you first thought of starting a company; when you're just focusing on your idea and how you can bring that to life and then sell it to customers. But it's so much more than that; when you start hiring people you feel a huge responsibility for those people who need to be paid every month, have their own family and so on. But, putting that aside, it's crazy fun and so fulfilling and rewarding. So I wouldn't be without it. It's been a great ride. And, I haven't really thought about it but, this month. It's been three years!
Johnnie: So, really, you're almost coming out of that start-up phase and now Omnium are looking to take that next step in the coming months and years, and progressing. So you'd say that the stereotypes are correct in a way? Sleeping in the office, long hours as well but some enjoyable things too; when you start winning business? Does that sound right?
Petter: Yes, definitely. We're crawling out of our shell right now. So we're ready to hire more people and to scale up both internationally and in terms of the number of employees we have; we're scaling the entire company. So, hopefully, the worst, crazy days are behind us.
Johnnie: On the subject of the challenges of setting up the business, those three years ago, would you that the experience you gained throughout your career helped you? Or would you say, in preparation to starting Omnium you had to take some business management courses or had to speak to other startup founders about their experiences? Or, was it a natural progression for you?
Petter: Well, we basically jumped straight in to see; can we do this? Can we do it better than many others? What will we learn while doing it? So, no courses, no schooling, doing it the hard way, succeeding sometimes, failing many times, but then just trying not to make the same mistakes again. It's really interesting you say that because I speak to a lot of startup founders and many give off the impression that it is indeed 'plain sailing'. Some founders won't admit to their mistakes and others will.
Johnnie: Would you say that, actually, that's the biggest learning curve that you guys have experienced? Making those mistakes, be it around technical development or business practices and then learning from them, that's been the biggest pathway to success?
Petter: Yeah, probably. Just the mindset of being okay with making mistakes takes you one step closer to doing it right. So, it's totally OK to do something wrong or make a mistake, because that also takes us forward. You learn to like the mistakes, in a way. That was definitely a big learning curve. Yeah, definitely.
Johnnie: You can lean on that, can't you? Once you understand that you can learn from it and use it to your advantage, then it becomes a benefit.
Petter: Definitely. I think the people that assume that starting a company and getting it right will be 'plain sailing', I think they're in for a wake-up call. I think it's better to realize that early on and admit your mistakes and get then it right, than to brush them under the carpet and pretend they di