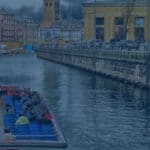 Moving to a new country can be a daunting venture.
It feels like there are a thousand things you need to do, and on top of that, you need to kick-start your social life.
Good news;
You don't have to worry about how you're going to meet new people (or find the love of your life) anymore.
Here are our top four ways to make new friends and meet people in Denmark!
Be the life and soul of your party!

Ok, this one may be easier said than done for some.
But be sure to be proactive and invite people over – do not wait for new danish acquaintances to make the first move.
Danish people are keen to make friends and get to know people but are hesitant and often find it difficult to make the first move.
There's no better time than now, so accelerate the process and make the first move.
There is no I in team!
Denmark is a country full of associations and clubs. 90% of citizens are a member of at least one but, on average, each Dane is affiliative to no less than five.
This is a great way to meet people. Many international clubs arrange social events for newcomers.
Say Hej! (Hello)
No doubt about it, it is difficult to learn a language to start with but it will certainly pay off.
According to the Danish Educational Act, all newcomers in Denmark are entitled to free-of-charge Danish Lessons when you have a CPR number.
Tea for two?

Danish people are very active so many hang out at sports clubs, fitness centers, and swimming baths. Many also take evening classes.
Visit a local library, town hall, or municipality website to find out which associations, clubs, and events are nearby. Alternatively, speak to your Danish colleagues, they will be able to point you in the right direction.
Access everything you need to know about relocating to Denmark in our free relocation guide.