Small Team Of Experts VS Big Team Of Mid Level People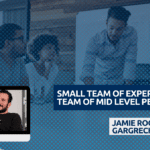 Jamie Rogers: Here's an ethic, not ethic question, but a valued question, would you rather have a small team of really expensive experts or a bigger team of maybe mid-skilled people?
Marco Gargrecht: I think it will be more interesting to have a larger team with mid-skilled people and make them experts. I think that's a good answer. That's more adventurous I'd say.
Jamie Rogers: Yes.