Taking your first step into Robotics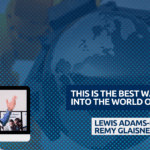 Lewis Adams-Dunstan sat down with Remy Glaisner, Research Director at IDC, a leading research and solutions company for the newest topics and technologies to focus on the topic of robotics and where the future lies for employers and employees.
International Data Corporation (IDC) is a global provider of market intelligence, advisory services, and events for the information technology, telecommunications, and consumer technology markets.
IDC has more than 1,100 analysts worldwide working in over 110 countries.
Remy talks about artificial intelligence in robotics, why robotics start-ups fail, how robotics are transforming businesses and how to start your career in robotics.
Lewis Adams-Dunstan: So, what would your advice be to anyone who is looking into getting into the world of robotics?
Remy Glaisner: Getaway! I'm just kidding. I would say, for anyone looking at getting into the world of robotics is make sure you balance both sides. The side that is the technical side, the engineer spirits, and make sure you always meet that with the business side of things, because you can have the best possible technology solution in the world. If there's no one who can be your client, in a very straightforward way, it might not be useful for anyone.
Actually, it's almost a joke I use these days. I know people never heard of that. But back from Paris, where I come from, there's been this contest every year. And it's been for the past 120 years. It's basically what it is, is that it has a big jury made of 200 people, and what they do is they elect the best invention of the year, and then you get a grant to make it a business. So there have been 120 of those, best inventions of the year.
Guess how many of those became an actual business or survived as in business for more than two years, only three. So, it's not because you have the best technology in the world that it will transform into the best venture in the world. So again, for someone who wants to be in robotics, keep both sides be a marketer, be a businessperson as much as being a technical robotics person.
Lewis Adams-Dunstan: Okay, so don't just look at the cool technology that you see in front of you. Really think of the bigger picture as to where the business could go and do they actually understand the direction they go in.
Remy Glaisner: Exactly.