The Journey of a Female CTO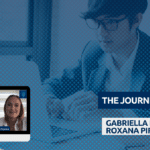 Transcript:
Gabriella: How did you kind of journey into this position now of becoming a CTO? How did that happen for you?
Roxana: That's a bit of an interesting story. It is not really what you would expect from one position to another because I was quite young when I joined my previous startup and I wanted to escape the vertical management systems where you need to wait three, I don't know, to five years before changing your positions, big company, old management of corporate system, that is great, it was really great to start working in these companies because it gives you really good working techniques. And yeah, I was personally interested in blockchain and the change in paradigm proposed by this technology. So I started learning by myself and implementing a small project creating a small ecosystem with talented people. This was my added value, niche knowledge where resources were scarce, and it allowed me to start in this position within a startup based in Geneva, working in a field that I loved, and an interesting team too because they say that you are better if you do what you love. And that was an exciting time of growth and innovation in an effort to tackle the problem involving mostly viability of this kind of application in Fintech and Regtech mostly. I'm happy I took the challenge.
Gabriella: Oh good, well, you've accomplished so much at such a young age already, so what's the next goal? Where do you see yourself maybe in five years?
Roxana: Sounds like an interview question.
Gabriella: No, I'm just interested to know where you go from here because I feel like you're so accomplished already, what more is there for you to kind of achieve?
Roxana: Yeah, I understand the sky is the limit right?
Gabriella: For sure, is there any goals that you've set yourself in your career?
Roxana: Yeah, of course I always set goals. I'm that kind of person on New Year's Eve like what are my goals? And I think for the next five years, my goal is to bring my current startup to the status of a unicorn, that is the ideal but more pragmatically i'm looking forward to the scaling step, managing a team of more than 50 people, developing the business internationally and improving the overall supply chain, transparency and profitability for the use of all the users. I would also love to share some knowledge it is in my plan to give something back to motivate young professionals to find the courage to their ambitions. I truly believe there is so much potential around us, and I truly believe that growing together is more desirable and more rewarding personally.
Gabriella: Yeah, definitely sounds awesome. I'm excited to watch the journey and see how far it goes, because it sounds like for you, it could be a very big kind of explosion to getting where you want to go, but super exciting.