Top Tips for Creating a Great CV/Resume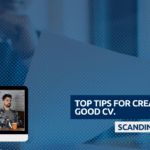 Transcript:
James Allen
The topic of CVs is quite a good topic because we've all seen it we've all seen good and bad CVs, we don't just send a CV, we don't just fire off a blank CV, we speak to candidates so that we understand more about it. What would be your top tips on how to create a good CV? You know, from our experience, what have we seen? Is this necessarily maybe a bad CV or something? We've had to do a lot of work to or something.
Johnnie Savva
Well, I think this is another plus for having that advice quite directly from someone like us where it all depends on the client itself or the end of the business that you're looking to, to join, if it's a consultancy, then I think a project experience and product experience of what you've worked on previously is key. And I think that's, again, another reason that you know, it plays into the fact that if you're going to approach a business with your CV, you're having a conversation with someone that knows exactly what to put on that profile to make you stand out.
So that would be the biggest thing for me is, you know, having that direct access to what should be standing out in this profile before approaching the business or being introduced. And it can vary. So it can be even project experience. It can be you know, get your personality across maybe about maybe part of the CV or your bio. So it does vary. And that depends on the type of business you're going into.
James Allen
I think one thing that you've touched on is the relevance and using our experience to make sure your CV is relevant for that business, or consultancy. I've seen so many CVs in the past that have been a bit too generic and have also, you know, the CV is probably going to be the one thing that is your first door open to that business. And there have been too many times when I've seen the CV being too much about what the company does or what the project was about, but not necessarily anything about that individual was involved in that process.
You know, they've got their tech stack fine thrashing no java for me and .Net for you guys. And they've got that on there, but they haven't said, you know, where did they use that technology? Why did they use it? And I know that's going to be stuff for the interview process, which will probably cover off later. But it's still that first door into that business, you've got to make it relevant and almost sell yourself for 'what I did for that project'.
Danny Arnold
It's a good chance to show yourself off. Like that's your story. You've worked hard to get these qualifications or skills, and when you put minimal on that CV, it's going to be overlooked. It's like having a Ferrari and never driving it. You know, you've worked hard for that. You're going to show it off, like make yourself stand out compared to others.
It's little things that you can do in your CV and it doesn't seem like it's a lot. But if someone sees how much you've worked on a project and how much your role affected the business, because of what you did, I think compared to others, you're going to look far better in the process for sure.