Unveiling the Top 5 Employer Branding Mistakes.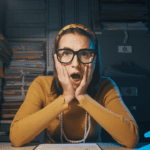 A guide to building a stellar reputation!
Employer branding is a crucial aspect of talent acquisition and retention for businesses; the reputation and image of your company are extremely important to attract and engage top talent. Unfortunately, some companies make common mistakes when developing and maintaining their employer brand. We'll delve into these mistakes and give you the solutions that will help protect your business' reputation among job seekers and employees.
Neglecting the candidate experience: 
Never underestimate the power of the candidate experience. Failing to provide a positive and engaging experience will result in frustrated candidates who will abandon the application process or walk away with a negative perception of your company.
If your recruitment process has too many stages, takes too long or involves too many people, the candidate will disengage. Keep communication clear, timely and personal. The candidate's experience can make or break your employer's brand, so strive for excellence.
Inconsistent Communication: 
Consistency is key when it comes to employer branding. To gain and maintain trust, the image portrayed by your business must align with the actual experience of the employees. Ensure that your company's values, culture and employee experience line up with your communication across social media, job postings and your company website – as well as internal communication. Regularly review and update messaging across all channels to maintain credibility and consistency.
Lack of employee engagement: 
Don't allow negative experiences to adversely affect your brand. Invest in a positive work environment that recognizes and encourages growth. Happy employees become brand advocates and help to attract greater talent, especially through positive word-of-mouth referrals.
Ignoring online reputation: 
In the digital age, businesses can't afford to ignore their online reputation. Ignoring online reviews, comments and social media mentions can be detrimental to attracting top talent. It is crucial for businesses to actively monitor and respond to online feedback – both positive and negative – timely and professionally. Highlight the positives and constructively address the negatives, showing a commitment to continuous improvement.
Lack of diversity and inclusion:
Don't overlook diversity and inclusion, or risk losing out on attracting a wide range of talent. Prioritize creating inclusive policies, fostering a diverse workforce and promoting equality throughout the organization. Help to showcase diversity initiatives and share employee success stories. It will resonate with those seeking a welcoming and inclusive environment and demonstrates that you value a rich variety of perspectives.
Crafting a resilient employer brand: 
Avoiding these common mistakes isn't just about maintaining an image; it's about attracting the best talent, driving success and standing out from the crowd. Building a strong and appealing employer brand requires consistent effort and attention to detail, but the rewards are substantial. Start building your reputation today to help drive your success in a competitive marketplace!
Would you like some support boosting or nurturing your employer brand? Do you already have an amazing culture but would like a platform to showcase it?
We can help you build an amazing employer landing page.  We offer employer branding packages for our volume or retained clients. Reach out to our Marketing Director, who'll be happy to have an informal discussion with you.