Why Attitidue is as Important As Skill-Set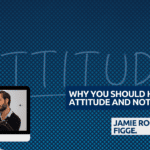 Transcript
Dustin Figge: There are a couple of beliefs and you have probably also learned that hiring for attitude and not for skill set because educating on attitude is almost impossible, I guess. But educating and teaching and training on skill set is easier when you have training plans in place and so on and so forth. But also, the reason why we found this business is not only about gigantic market opportunities, we are able to potentially build a unicorn business at some point, but also just work with people we like. All these cultural talks, all the companies you meet, who have table tennis, and all that stuff, which I don't believe in, to be honest.
But in the end, the reason why they're probably also doing that, they just want to have fun at work.
So, the attitude piece when you hire people, I guess it's super important. And when you have a messed-up culture, you can even have a super nice business. But when people are not enjoying themselves and they're not happy about the work, I think that will also be mirrored and shown in the numbers at some point.