Why Hamburg is a Great Place to Live and Work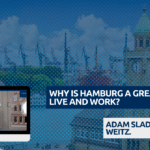 Transcript:
Adam Slade: When creating any business, you need to choose the base of operations, right? You've experienced building businesses all over Germany but, this time, you've ended up in beautiful Hamburg. Why Hamburg this time?
Benedikt: Well, there are professional reasons and then there are personal reasons. So, if I look back at my life, I was very gifted and had the chance to travel a lot. I traveled a lot. I was in the army for two years and I studied to become a Lieutenant in Bavaria. I originally from Cologne (which can be well heard when I drink my first beer) and meanwhile I was also in Berlin. So indeed, I really covered the west, the south, the middle and the east of Germany.
In my latest station before Hamburg, I was in Berlin and decided to make my mind up about where I really wanted to be. I was looking a great combination of industry, roughness, nearness to the sea, but as well as that, a beautiful city.
I visited friends in Hamburg multiple times and felt that it's the place for me. I very much appreciate the quality of living here. Hamburg is very well connected to the rest of Germany.
So, looking at the structure of Hamburg, there are many, many offices here. There are many family businesses as well. There's a lot of logistics and trading and not that great orientation to 'service only' as found in Berlin. That made it more attractive to me. In Hamburg we're dedicated to producing companies and to the transport industry.
Adam Slade: Do you think that, with the incredibly fast rate that companies have been founded in Berlin, it's almost intimidating to try and build a business in a location where there are so many others doing the same thing?I
It would be so easy to give a short reply but that's a tough question and it's very difficult to be precise. Of course, the financial infrastructure for startups in Berlin is better. If you look at the infrastructure of VCs etc. However, there are more startups located, so, you could get lost in the great variety of startups located there.
The reason why I would to advocate Hamburg as a startup location; in my point of view, it has a very special 'Made in Germany' stamp. Hamburg's values are hard-working and traditional but, at the same time, it's a very international and qualitative area of industry and of services as well.
What we're experiencing here at this moment is similar to a smaller 'village'of startups. It's the networking of the startups and the 'nearness' of these startups that's special; the support that startups are giving each other. Everyone is willing to help each other out. From what I have experienced in Berlin, theres more of a competitive mindset.
Adam Slade: What advantages do you think Hamburg has as a place to live other than, of course, being beautiful?
Benedikt: I actually want to take that question back to you to give the reader a better understanding of your position your connection is to Hamburg.
Adam Slade: First of all, I think it was overlooked as a location. Back in 2018, when German startups set the record for the cash flow of over three billion euros that year, around 40% were in Berlin and 15% in Munich. Hamburg were sitting in third place at around 6%. It's the third-largest tech hub in Germany but I was quite surprised by the number of developers that hadn't considered it as a career location.
So I wanted to understand how businesses in Hamburg have been growing their tech teams over the last few years, some of the challenges that they face and then help to try to not only solve those but to share that information with developers across Europe that are looking to move to Germany. Companies like
Airbnb had its first office in Hamburg and now you have Facebook, Twitter, Microsoft, much larger global giants that are moving to Hamburg and I see the evolution of the last five years only progressing into the next five.
Hamburg has become a real contender for business founders.