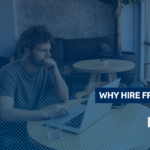 Whilst I appreciate its every company's goal to hire a full team of permanent employees, I just wanted to inform you of the benefits of hiring a freelancer and why some of the biggest companies in the world opt to use this hiring method.
These are the 3 main problems our clients were encountering before they started hiring freelancers from us…
Recruitment Speed
This is the main reason why most companies hire freelancers. If you have no problem always finding the best talent to fill your permanent vacancies instantly… that's great! This probably means the rest of this article will be irrelevant to you. However, in previous instances talking to Hiring/Engineering Managers, I'm aware that some vacancies that companies are advertising have been active for months & in some circumstances over a year or longer! On average at Darwin Recruitment, it takes us just over 1 week to fill a freelance vacancy. The question you must ask is how much more productive will your company be with a faster hiring process?
Efficiency
When hiring a full-time member of staff, there are several potential hurdles you may encounter such as…
How long will it take for the candidate to integrate?
Is the candidate going to be reliable and stay for the longevity?
Will they need any additional training?
When hiring freelancers, you can be more decisive on who you are hiring because not only will you have a wider reach of high-level candidates, but freelancers usually choose their employers based on their own specialities. There is a big chance that these candidates have worked in the same industry as your company in the past, this means they can then bring fresh ideas from your competitors to innovate your company.
Filling Difficult Vacancies
By relying on the hiring of permanent staff, you are automatically limiting your search of staff to one avenue. If you are always on the search for both freelancers and permanent staff, it will make those difficult vacancies easier to fill. Freelancers make it easier to build high-level teams and fill any skill gaps you are lacking without having to lower your standards and take a risk on a cheap hire who might cost you more time and money replacing them in the long term.